Discussion Starter
·
#1
·
I'm selling my slightly used P99 Titanium .40 S&W, box, paperwork, and magazines. The pistol is in excellent condition and has had under 1,000 rounds through it since it was purchased new by me in 11/2004 from a local gun store. I carried the gun on duty for only a few months before switching over to Glocks due to the proprietary light rail on the Walther. I am including four (4) ten round magazines and two (2) twelve round magazines with the gun. The frame is stamped "AD", which I understand means the gun was manufactured in 2003. The original box includes all paperwork, test target, extra backstraps (2), and original plastic sights. I installed meprolight adjustable night sights on the gun immediately after buying it. The floorplates of all of the ten round magazines have been replaced with S&W-marked floorplates due to the defective Walther ones that cropped up several years ago. The 12 round mags have the newer style Walther floorplates.
There is nothing wrong with the gun mechanically. It is my current secondary weapon to my primary Glock 22, and I re-qualified with the P99 several weeks ago. The only cosmetic issue with the gun that I can see is that the left rearmost corner of the rear sight has a tiny cosmetic ding in it that may be visible in the photos below. If you need additional pics taken, just advise.
Price is $425.00 for all of the above, plus $25.00 shipping to your FFL. I will accept only postal money orders and am not interested in trades. The firearm will only ship to the lower 48 states, or may consider face to face transfer in KY to KY resident depending on your location. Sale must be concluded before the end of October. The gun is being listed locally as well. Thanks for looking.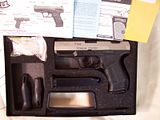 Russell420