Discussion Starter
·
#1
·
After other Forum members made me aware of the Truglo hybrid Tritium/Fiber Optic sights, I bought a set of TFX for my Q.
Then I read, and read, and read everything I could find about installing the rear sight. The front is a no-brainer, but the rear had me stressing.
The rear sight slot in the slide measured 10.39mm, but the TFX sight measured 10.50mm. I realize there has to be an interference fit, but it seemed like quite a bit.
I called Truglo and asked them how tight it should be. They didn't have an exact number, but said they'd never heard of a fit problem. Even so, they kindly offered to install the sight if I'd send in the slide.
Before doing so, I thought I'd check with the crew at the shooting range I frequent to see if they would put it on for me.
Having already removed the OE rear sight, I showed up at the range shortly after they opened to have Jeff install it. He wasn't in yet. Damn.
I reinstalled the OE sight then shot 100 rounds with the TFX front and the OE rear.
As I'm about to leave, Jeff arrives.
Me: 'Can you install this rear sight, and do you have time to do it?'
Jeff: "Yeah, hang on, shouldn't be a problem."
He takes the slide and sight, walks to the end of the counter, and before I realize what's happening, picks up a little nylon-tipped hammer and taps the sight 4 or 5 times moving it into position, looks at the end of the slide and says "try that, I think it's straight..."
I'm humbled. And embarrassed. All my visions of an exotic sight press being used are crushed.
He says: "Put the gun back together and shoot it, and I'll adjust it."
So I go back in and shoot ten rounds from about 20 feet, slow fire, about once per two seconds. This is what I got: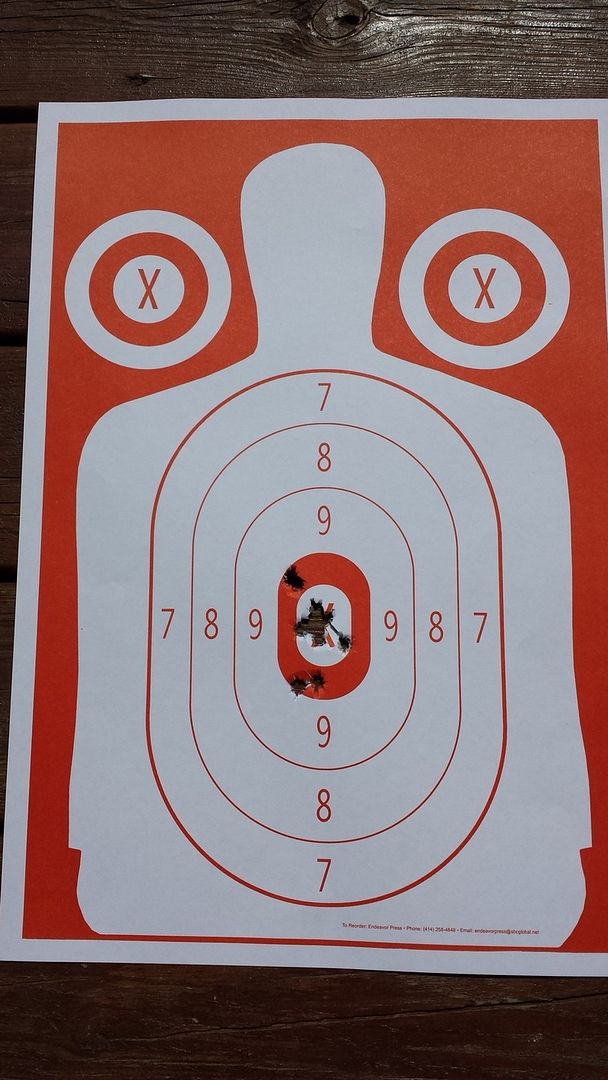 Ummm... close enough.
Moral of the story: Fixed rear sights go on a PPQ a lot easier than it looks.