Discussion Starter
·
#1
·
Just thought I'd add my experiences with my new PPS. I really wasn't too exited about this pistol when I first heard about it. My primary carry weapons are a SW SW99 compact (9mm) for colder weather and a Kahr PM9 or SW MP 360 for warmer weather with less cover garments. That being said, I was at the local Range/Gun Pusher last week and there was a PPS First Edition just sitting there between a few other P99?s, I almost didn?t notice it. But I did and made the mistake of just asking to take a quick look.....30 minutes and $625.00 (Ouch!) later, I walked out the door with my new toy.
This being the ?First Edition? model, it came in a really nice metal case, with the additional back strap and 3 magazines (6 shot, 7 shot and 8 shot). I?ve been dry firing and fondling it over the past few days, and must say it really feels good in my hand. I found the trigger to be excellent (that being totally subjective of course), very smooth with no gritty feel for a new striker fired polymer pistol. After ? inch of spring tensioned slack was taken up, the actual let-off is very crisp and smooth with no perceived over travel. My trigger gauge only measures up to 4 pounds and wouldn?t release the striker, but it didn?t take much more force to release the trigger after that. I would guess-timate the pull at around 5-6 pounds, which I personally feel is about perfect for a carry weapon, not too light but light enough to be able to obtain good accuracy.
Take down is Glock-like with one cool twist. You can do it just like the Glock, remove the magazine, check the chamber, pull the trigger, pull back the slide a bit and pull down the slide release, and remove the slide. The twist is that if you remove the removable back strap, it also de-cocks the striker! You don?t have to ever touch the trigger to break it down, just pop the back strap off after you remove the magazine. The SW MP9/MP40?s also get around the trigger pulling thing with the de-cocking lever that you have to reach into the mag well to release, which I still like, but this is even slicker and much easier to use.
Along the same lines, I know a lot of folks don?t like built-in gun locks. Well the PPS does have one, sort of?.I think the way they designed this one is pretty clever. You just remove the removable back strap and the gun de-cocks and can not be re-set, the gun can not be fired until the back strap is re-installed. Walther calls it their ?Quicksafe? feature. It?s a locking function without a lock that can fail or that needs a key to use (or loose). The way the magazine base covers the bottom of the back strap and the release notch, it can?t be accidentally released and render your firearm in-op at the wrong time.
Well, I got to the range this morning to put a few rounds through it. I didn't have a whole lot of time so I only fired 250 rounds, 200 Winchester white box value pack rounds and 50 Winchester 115 gr JHPs. Right up front, I wasn?t shooting for accuracy at this time, I just wanted to check it out for reliability and handling so all firing was from 10-15 yard only. I ran the fist 100 value pack though it in quick order just to get comfortable with the mechanics of everything. Very impressed! For as thin as it is, recoil was minimal and it came right back on target quickly for easy follow-up shots. I did have 1 failure to eject at around the 50th round fired. I actually was trying to get it to fail by holding it loosely while shooting. I did this for a total of 21 rounds, a full cycle through all 3 magazines. It did fire 20 shots through this little un-scientific test so I was OK with this performance. I didn?t have any other failures for the remaining rounds fired. I blazed though the 50 JHP rounds without a problem. Not fully tested and trusted for carry yet, but a good start. While not shooting for accuracy, I can still say that this is little pistol seems to have great accuracy potential. I was getting 1-3 inch groups consistently through each magazine?s worth of rounds fired. I don?t have any impressive pictures of the targets as with each magazine change, I was adjusting my grip and finger placement on the trigger to find the best setup, so my overall groups for each target show an unfair more scattered grouping. Needless to say, the potential for some impressive accuracy for such a small pistol is definitely there. I think this is due to the excellent sights that this gun has. They are fixed with 3 white dots. The rear is drift adjustable with a rather large notch that made lining up the front sight quick and easy. The front sight is removable via a screw inside the slide. The package did not come with additional different front sights like the P99/SW99?s do, but I?ll assume they will be available from Walther at some future time. I did check, the sight from my SW99 are not the same and won?t fit on the PPS. Either way, for me the sights, as installed, were right on the money, put the center dot where I wanted the bullet to go, and it did!
Sorry for rambling on for so long, hope it is of interest to a few folks.
Ok, I took a few pictures (150 all together, rather a lot really) and here is the photo essay with a few of them?.Enjoy!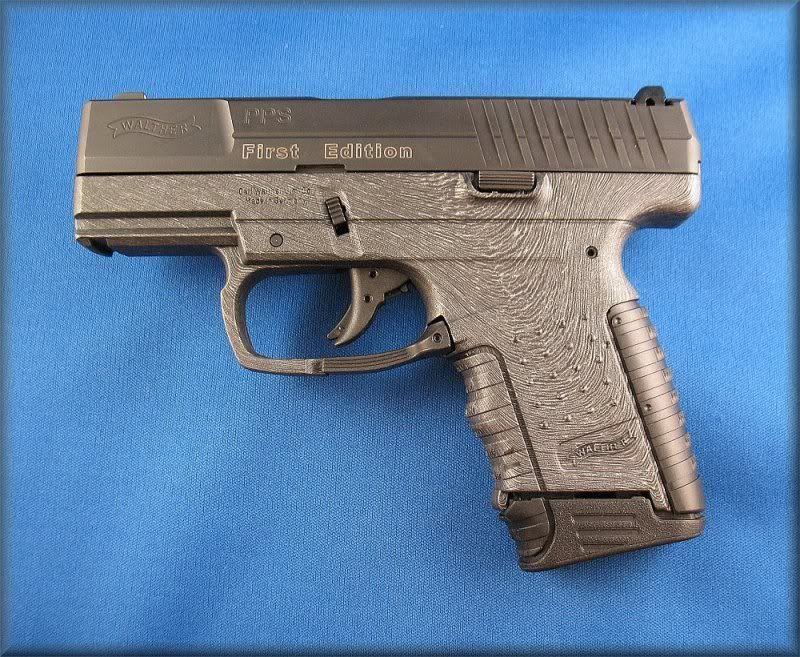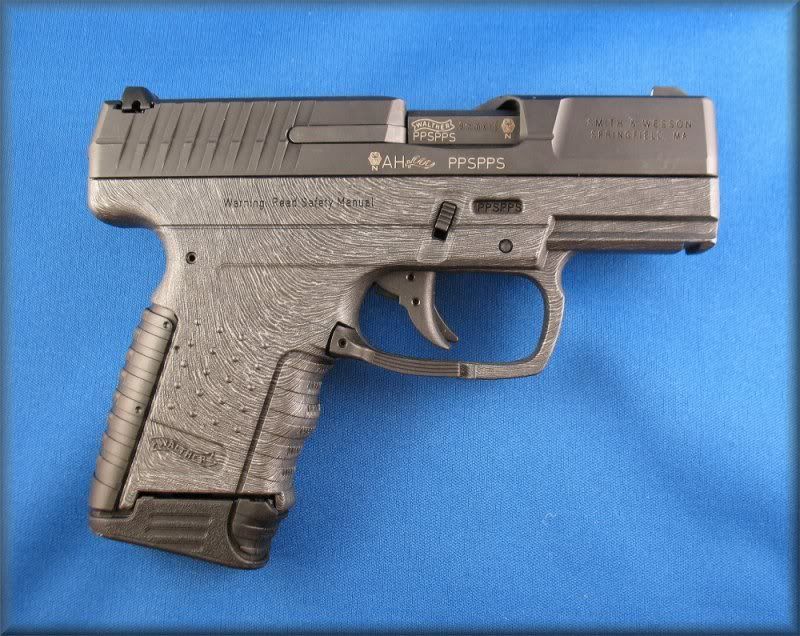 The whole package: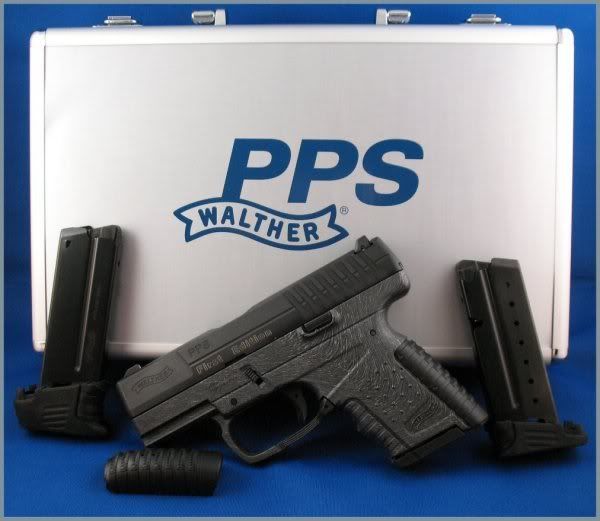 More pictures to follow....
Cheers....Obi-GUN