PMM is proud to announce our new line of pistol compensators.The PMM Compensator uses a proprietary mounting system much like what is found on all modern rifles utilizing a combination of shims and proper timing of the compensator in relation to the Pistol slide.Additionally, the PMM...
www.parkermountainmachine.com
Walther P99 Compensator. Jarvis Compensator for the P99 9MM reduces muzzle flip and perceived recoil. Easy installation and disassembly.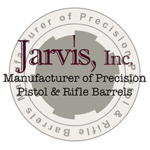 jarvis-custom.com
From my limited perspective...
PMM-
pros- more secure(?) shim and glue and torque, no barrel machining.
cons- more precise fitment requirements or skilled installation
Jarvis-
pros- once threads machined it's kinda plug and play with no shims
cons- sending barrel off or machining index locally, less secure (?) with a set screw
Open to other similar options, if there are any? I like the idea of top side only porting.