Orlando: Your PPK's "writing" is etched on the slide. It's a process where a template is used to allow acid to "etch" the steel in the form of the writing for a short period of time. This "etches" the information onto the gun.
The process of "roll engraving" is where a metal wheel is "rolled" over the slide with pressure to "roll engrave" the writing there.
"Stamping" is where a metal "stamp" of the writing is pressed onto the slide with high pressure to leave the writing.
All have little faults occasionally. Sometimes etching misses spots. Sometimes roll engraving loses pressure at the beginning or end of the "roll" and the writing appears lighter. Sometimes stamping is crooked or light or too heavy.
Here's a close up of a 1966 PPK with etched lettering:
Here's a pic of the gun with it's original dark brown grips:
Most of the time, guns are more valuable worn than they are reblued or restored. But it depends on what you want the gun for and how much money you want to spend.
A 1st Generation Colt Single Action Army .45 revolver in very worn condition is worth much more in this worn condition that it would ever be re-blued/restored. They are very collectible and quite rare.
Here is a Colt 1903 Pocket Hammerless I was given for free. It was horrible with an un-shootable rusty bore and Colt made 1.1 million of them so they're not rare. In mint condition they are valuable but this one was junk: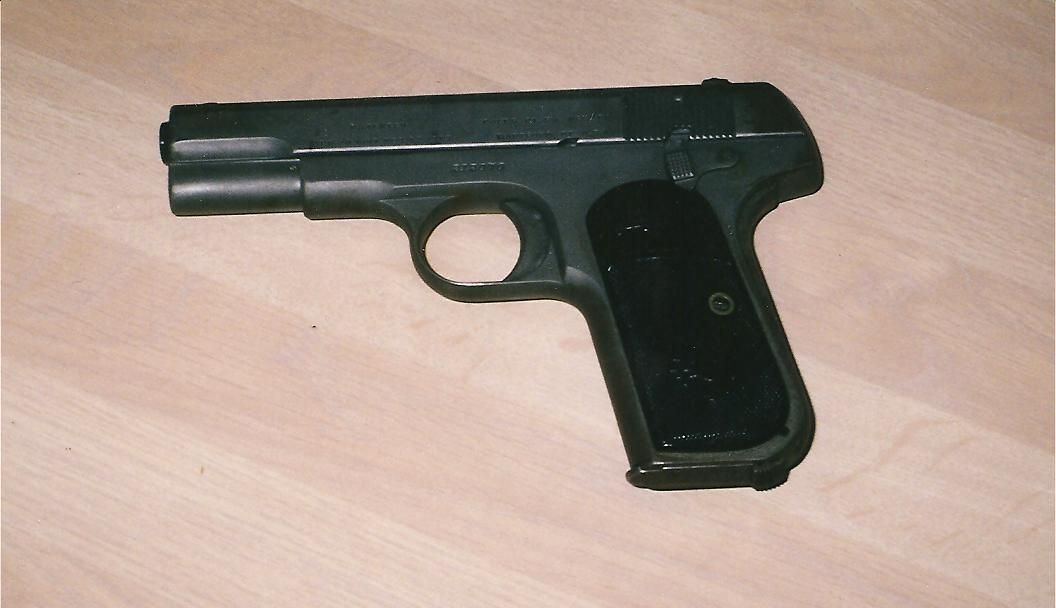 So I bought a new barrel for it ($79) and it fired well. So I had it reblued/restored ($100) and I put a set of bonded ivory Colt medallion grips on it (they were my dad's) and this is how it looked: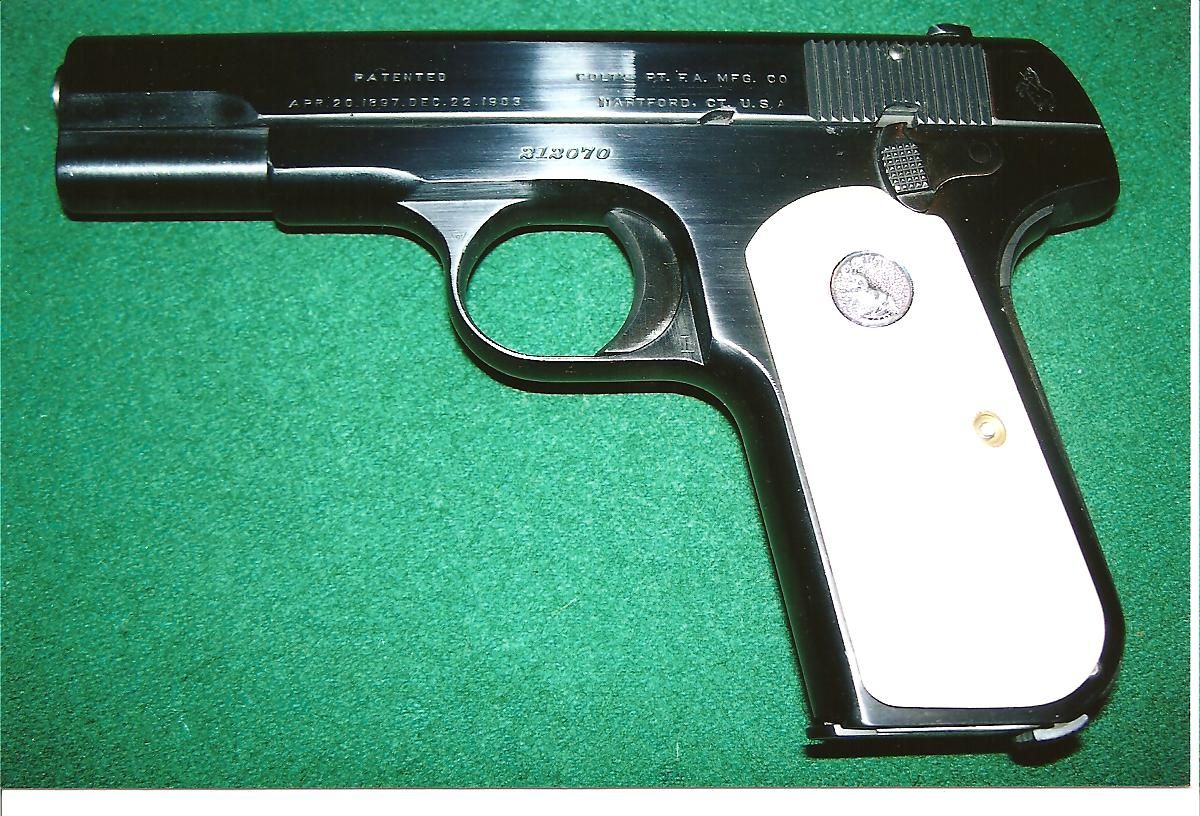 The restoration was first rate, but it doesn't make a $179 gun into a $1000 collector's piece. I just wanted it for a shooter and I felt good about bringing a junker back from the dead.
But then I paid $300 for Michael Gouse (
www.mtart.com
) to engrave it with 75% American Scroll coverage (see reply post-I can't post more than 4 pics in a single post):
I'm very happy with my $479 gun. I could probably sell it for more (but I would never and should never advertise it as anything but a restored and modern engraved gun).
So, back to your PPK....
You could get proper grips for it somewhere or put a set of new black ones on. You could leave it as is or you could have it reblued/restored by a really good professional who wouldn't lose the etched writing on the slide. Or, you could have it satin nickel plated or hard chromed or even satin black hard chromed (would look pretty cool with black grips) if the gun is so far gone that blueing it would look lousy. Plating of any kind can cover up metal discoloration but imperfections in the metal (nicks, dings, rust pitting) will still be obvious.
So then there is engraving to consider. A good engraver could polish the gun to get rid of most nicks and dings. Then deeper marks could be incorporated into the engraving to cover them up.
Here is what Gouse did with my stainless Interarms PPK (circa 1988) for $300...75% coverage American Scroll (see reply post):
I think we'd all like to see a picture of your PPK!