Discussion Starter
·
#1
·
I recently purchased a blade-tech holster. I purchased it online, but I would suggest that you either call after the online purchase or just purchase it over the phone. I have been told it is much faster this way.
Anyways they come in 9mm and 40 cal varients. I purchased the 40 cal version and found that my full sized 9mm fit just fine with a bit of tension on the tension bolts. There really wasn't any play, but remember some adjustment will have to be made on the two screws(not difficult). What amazed me is the 9mm compact fits perfectly as well. I didnt really get any play in it at all. Blade-tech might be willing to shorten there mold and make compact ones.
The holster is 65 ish dollars before shipping, and has several ways to attach to a belts from loops to j-hooks.
I really like the holster initially, although I have only had it for two days. It fights well and is very comparable to the predator in comfort. I am not a fan of the j-hook, and might acquire a new mounting system which can be purchased from blade-tech. Overall for the security and durability I would suggest this company over most of the others. The only other holster I have had for the Walther was the Don Hume and it didn't hold the weapon nearly as well in any sense. Don Hume is fine but this really is a great IWB. There are several other models to choose from, including ones with lights etc. Check around blade-tech in the holster section, or call because not all models are always posted quickly.
http://www.blade-tech.com/In-the-Waistband-IWB-IDPA-APPROVED-pr-820.html
Here are photos of the holster(I am left handed so ignore what seems to be a inverted photo)
P99C -9mm
P99 -9mm (Gen 1)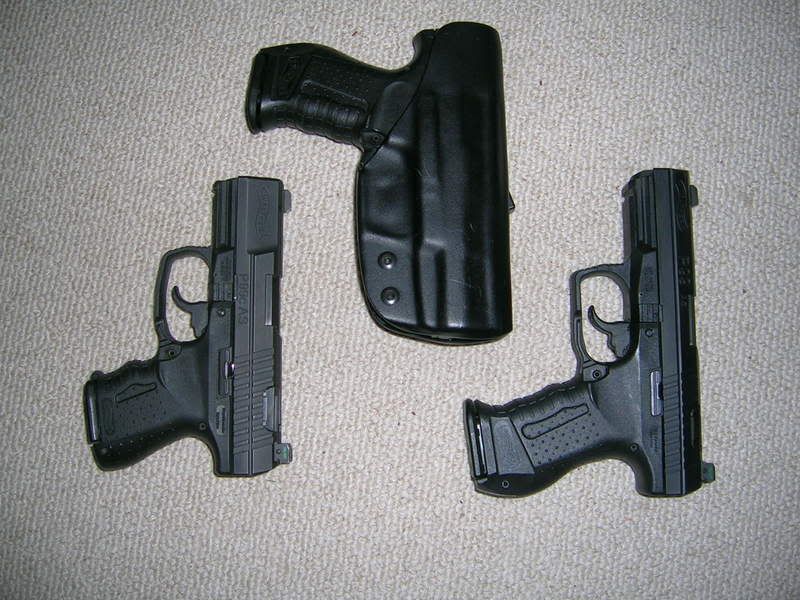 P99 -40 cal (newest model)