I'd like to announce the fact that Henrik Lundqvist, goaltender for the New York Rangers, has sold his soul to the devil. Yes, really - like meeting up at the dusty crossroads in the south kinda soul selling. Why? Because not only is he one of the best goaltenders in the world, but he just signed a $59.5 million dollar
extension
deal with the Rangers, can play the guitar as good as Slash (he has a band back home in Sweden), just brought home a silver medal to complement his gold, and is married to the statuesque Therese Andersson. Not proof enough? He's also sickeningly handsome. Like, that guy you hated back in high school 'cause he could get any girl he wanted kinda handsome. Like he makes MORE money during the summer modeling and starring in commercials than he does playing hockey kinda handsome! I mean seriously, hockey players are supposed to be goons, all beat up, ugly and missing teeth like these guys: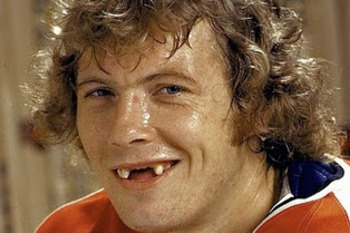 NOT
all pretty like this:
PROOF that he's sold his soul to the devil. But these things always come with dire consequences; very heavy strings attached. His curse? The Rangers SHALL NEVER win the Cup with him between the pipes. If they do, Lucifer will come callin' for his part of the deal!
-Pilotsteve, who hands-down wins the "Nothing to Announce" post of the day.